I HOPEFULLY can finally play some poker tonight..weeeeeeee
I am looking forward to some nice deep runs and maybe even some final tables if I can run good enough.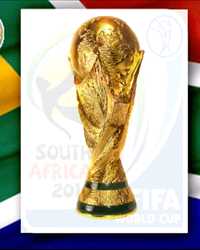 The world cup bets are pissing me off! I keep getting the tougher results correct, but then the so called "bankers" go and screw up costing me dosh.
i.e. today, I had a $15 treble . Brazil win , Portugal Draw and Slovakia to beat New Zealand (Yes New Zealand) and Slovakia conceded a last bastard minute goal to prevent a nice bet bankroll boost..grrrrrrrrr. Useless sods.
I am gonna have a mess about with my bets today and hopefully try and actually win a bit, but all my eggs are not going into one basket.
Todays games are:
Honduras vs Chile
Spain vs Switzerland
South Africa vs Uruguay
I am gonna go for the Chile Win, although I know sweet FA about Honduras, I am just gonna assume they are shit.
Spain should be beating on Switzerland, so I might go for a two half result there - Spain 45mins, Spain 90 mins
SA vs Uruguay - Well I thought Uruguay were pretty dire against France and the host nations always seem to do well, so I'll probably just make a single bet on the draw here.
Back to poker, today I was looing at ChipMeUp - looking to maybe buy a few small peices of some players to keep me interested when I am working and can;t play myself, nothing big just a bit of fun really.
Anyways I went onto the site and filtered out some Full Tilt tourney requests. I found a few requests for MSOP stakage, figured that sounded ok and I went and looked at a few of the deals.
First thing I notice is that none of them are selling the shares at face value, i.e. Say someone is playing a $100 tourney then shares are face value i.e. 100 shares at $1 each. Oh no these guys are wanting between 120-185%, i.e. each share is now $1.85 (at 185%) meaning $185 for a $100 tourney.
I was thinking "wow they must be really +EV to be demanding such a high value on their shares" So I spent a little time OPR'ing 5 or 6 of them and I couldn't believe my eyes. Not a single one of these guys were in profit this year or last year in MTT's. All were pretty decent losers or had only played like $2 donkaments.
WTF? How the fuck have they got the cheek? Weirdest thing was that a lot of them had sold a majority of their shares?????
Am I missing something here or do the other backers just not give a fuck and back any old chump to play with their money? I wouldn;t dream of staking some of them with Monopoly money, they were that bad.
There were so many potential stakes that there probably are some winning players there, but are they all gonna want so much vig on their stake?
Any help appreciated.
Right back to graft. FML!